Development of Kajo Park
Developing Kajo Park to make it full of charm
In Showa 54 (1979), construction of Kajo Park began as a project to commemorate the 90th anniversary of the establishment of the city. The fundamental basis of this project is to make Kajo Park a park that will be symbolic of Yamagata City. In Showa 59 (1984), the Kajo Park Improvement Plan was formulated, and at present, with the goal of completing the project in Reiwa 15 (2033), the restoration of the Honmaru moat earthen mounds (Dorui), and the development of the plaza, are underway.
This section introduces the historical background of Kajo Park and the main development plans for the future.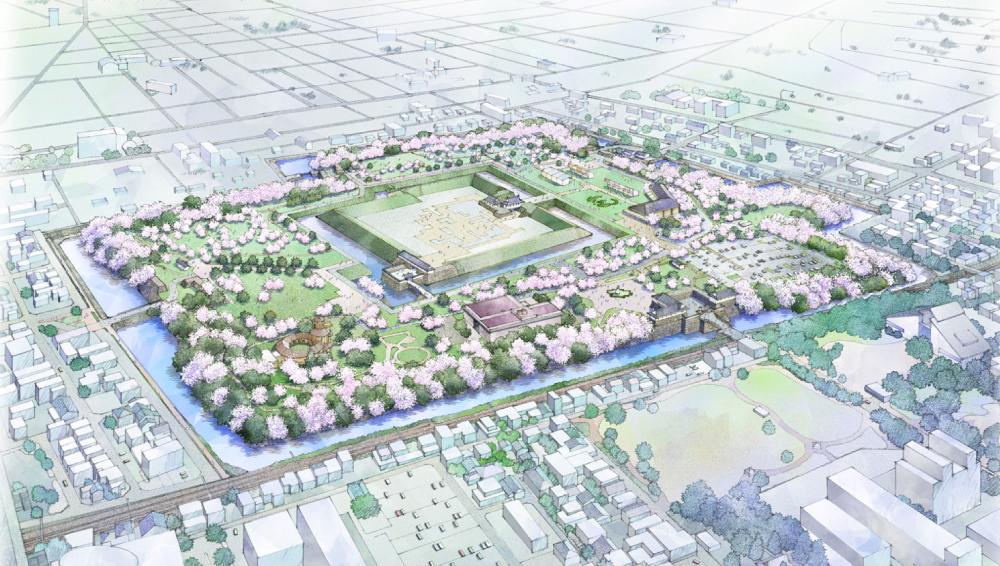 Development plan for the northern side area
In the northern side area of the Kajo Park, we conducted a necessary questionnaire survey on the development and use of the park. After conducting a study based on the requests of the citizens, we formulated a basic design in fiscal Heisei 30 (2018) that will serve as a direction for development.
(1) The Forest Plaza
As a playground for children, we will build an athletic facility in harmony with the surrounding landscape.
A relaxing plaza will also be built to provide peace of mind, decorated with flowers and flora.
It will be a place that events can be held, such as dakyu (a Japanese game that is similiar to polo).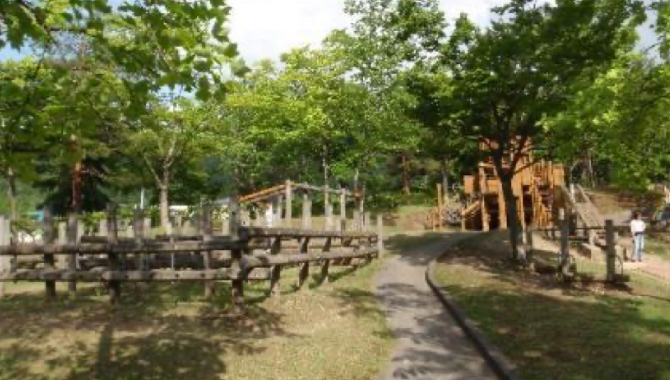 (2) The Honmaru Goten (main palace) Plaza (Honmaru Goten site)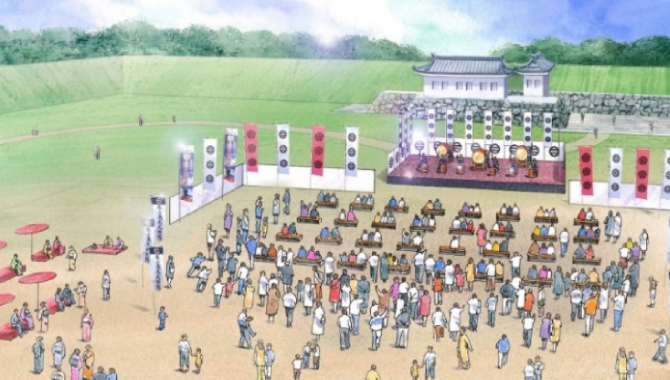 This will be used as a temporary square where events can be held. In addition to the flat display that shows the size of the goten, there will be a VR (Virtual Reality) that reproduces the state of the excavation and the history of the Yamagata Castle with video.
The area around the Honmaru Kita Akezuno-mon north gate will be restored based on the results of the excavation research, and will be developed to enhance the character of the Honmaru.
(3) The History Plaza
Guidance and hands-on learning facilities will be built that integrate various functions such as exhibition function for people to become interested in the history of Yamagata Castle and Yamagata and convenient function for eating and drinking.
A plaza where events such as fairs and festivals can be held, creating interaction and liveliness will be build.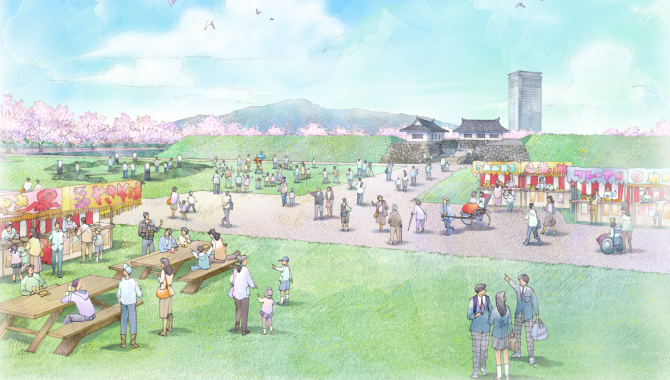 Major Future Development Plans
We will not only restore the Honmaru moat earthen mounds but also develop the northern side area.
Development of the Forest Plaza
Restoration of the Honmaru Nishi moat earthen mounds
Development of the Honmaru Goten Plaza and development of reproduction in videos using VR (*) and other technologies
Development of garden path of Ninomaru northeast earthen mounts
Widening and development of the garden path on the north side of the baseball field site
* VR is an abbreviation of Virtual Reality. It is a computer-generated three-dimensional space that can be simulated through visual and other senses.